Bipolar Disorder
Bipolar disorder is often called manic-depressive illness. This condition causes a person to experience unusual changes in moods and energy levels. Bipolar Disorder may present as depression, mania/hypomania or a mixed state which has symptoms of both.  The condition can negatively impact one's ability to function normally. 
During manic periods, individuals experience high energy, feelings of powerfulness, and impulsive behavior. This eventually transitions into the opposite, a deep depressive state, with feelings of fatigue, worthlessness, and intense sadness. Left undiagnosed and untreated, bipolar disorder sufferers often find it difficult to lead normal lives and may struggle with maintaining employment and relationships. Fortunately, this is a treatable condition with a good prognosis for those that seek help.
It extremely important to get a proper diagnosis before beginning treatment as the symptoms can be easily overlooked or confused with another diagnosis. Find out about what to expect at your first consultation.  Our psychiatric specialists will assess your symptoms and help you find the best treatment for bipolar disorder. Contact us today to schedule an appointment.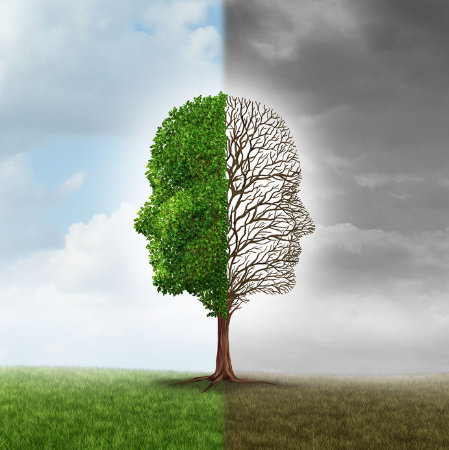 Mood Episodes Associated with Bipolar Disorder in Adults
Everyone experiences changes in mood, from feeling good or happy to bad or sad depending on life circumstances. Bipolar Disorder is experiencing severe highs and lows which are more drastic than typical mood changes. There are four types of mood episodes in Bipolar Disorder: mania, hypomania, depression and mixed episodes:
Mania consists of increased energy levels, creativity, and exhilaration. You may need very little sleep, speech is rapid, and high levels of activity. You may have feelings of powerfulness and that you are invincible. Mania may lead to making poor decisions, acting inappropriately, irritability and anger with aggression.
Hypomania is a less severe form of mania. While you may feel exhilarated, energetic and more productive but you are still able to fulfill day to day responsibilities. However, hypomania can disrupt work and social interactions or may lead to a manic episode.
Depression in Bipolar Disorder is more likely to include significant irritability, unpredictable mood swings and feeling restless.
Mixed Episodes of Bipolar Disorder have features of mania or hypomania and depression. 
What are the symptoms of Bipolar Disorder?
Bipolar Disorder symptoms include high energy levels with decreased need for sleep. Oftentimes, the person will have a heightened sense of well-being and grandiose thoughts. They may also have episodes of significant depression. Bipolar Disorder symptoms can vary from person to person. Symptoms may or may not have a set pattern with varying levels of intensity and frequency.
Manic symptoms are often similar, but in varying degrees of severity, and include:
Feeling markedly happy and optimistic OR very irritable
Unrealistic, splendid thoughts about your power or abilities
Sleeping very little but having high energy levels.
Such rapid speech that it is difficult for others to follow a conversation
Quickly jumping from one idea or multiple ideas to another
Inability to concentrate and very distractible
Very impulsive with poor judgment leading to behaving recklessly without considering consequences such as inappropriate sexual activity or excessive overspending
In severe cases, delusions and hallucinations
Depressive symptoms in Bipolar Disorder are often similar to Major Depression and may include:
Feeling sad and hopeless
Feeling tired or lack of energy
Appetite or weight fluctuations
Sleep disturbance
Concentration and memory issues
Thoughts of death or suicide
Mixed Episodes in Bipolar Disorder have Depression with agitation, irritability, insomnia, anxiety, racing thoughts, and distraction.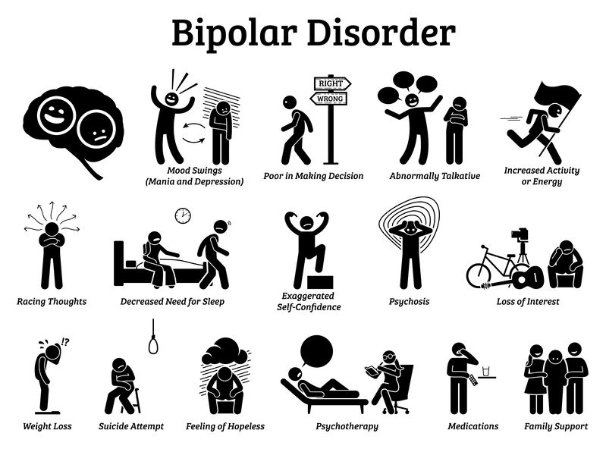 Do Other Disorders Have Symptoms Similar to Bipolar Disorder?
Bipolar Disorder can be difficult to diagnose because it has similar symptoms to other disorders such as
Attention Deficit Hyperactivity Disorder (ADHD)
and certain Personality Disorders. The overlap in symptoms with ADHD can include inattention, forgetfulness and misplacing items. The diagnoses also share symptoms of increased activity, excessive talking, interrupting others and impulsivity.
Bipolar Disorder and Personality Disorders have similar symptoms including impulsivity, irritability, and difficulty with relationships. It is important to have a thorough assessment by a Psychiatric Specialist
beginning with an initial consultation
to identify symptoms related to correct diagnosis and appropriate treatment for Bipolar Disorder in adults.