Panic Attacks and Panic Disorder
Panic Disorder is a result of having recurrent and unexpected panic attacks. In many cases, the attacks are debilitating and not related to a specific situation. This often results in worry and feeling more anxious about having another panic attack.
For some, the fear of having another panic attack may prevent them from going out in public or socializing. Panic Disorders can also cause behavioral changes. For example, exercise can increase heart rate which might feel like anxiety that could lead to a panic attack, so you no longer exercise. Over time, the fear and memory of a panic attack can leave lasting negative effects on self-confidence and disrupt day to day activities.
Panic Disorder can be difficult to recognize because the fear, worry, and change in behavior can come on gradually. You may avoid situations or going places due to the distress of having a panic attack in an environment where escape may be difficult, or you wouldn't be able to get help. The concern that a panic attack may cause embarrassment to themselves or others around them can eventually lead to increased isolation (known as agoraphobia)
To understand Panic Disorder, it is important to know the symptoms of a panic attack. If you worried you might have Panic Disorder, schedule an appointment to discuss your symptoms and options for panic attack treatment.
What Are the Symptoms of a Panic Attack?
A panic attack is a rush of intense fear or discomfort that peaks in a matter of minutes but may last for an extended period. Some people feel exhausted after a panic attack, or the attacks may wake you from sleep. It is not uncommon for someone to experience a panic attack once or twice in their lifetime. If you experience frequent panic attacks, however, you may have Panic Disorder.
The symptoms of a panic attack vary from person to person, but may include:
Increased heart rate or difficulty breathing
Chest pain, nausea, abdominal distress – feels like a heart attack
Trembling, shaking or sweating
Feel as if you are choking
Temperature change – either too hot or too cold
Dizziness or lightheaded
Fear of "going crazy" or dying
Feel detached from yourself (depersonalization) or from reality (derealization)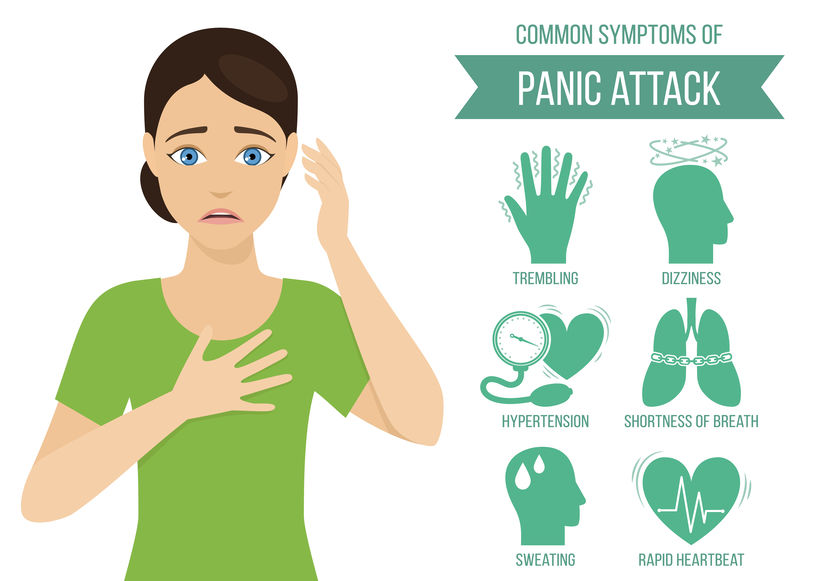 What Are Common Causes or Triggers for Panic Attacks?
Causes or triggers for panic attacks can vary from person to person. There may be a family history or a genetic predisposition to having anxiety and panic. Major life stress, such as a death, serious illness, traumatic events such as sexual assault, significant changes such as divorce or having a baby can trigger anxiety and panic.
Smoking and excessive caffeine intake can also trigger panic attacks. Therefore, it is important to discuss symptoms with a Psychiatric Specialist, not only for an accurate diagnosis but also to receive the appropriate treatment.
What are the symptoms of Panic Disorder?
Recurring and unexpected panic attacks
A month or more of fear and worry about having another panic attack
Worrying about the implications of a panic attack, such as thinking it may be related to an undiagnosed medical problem
Changes in behavior due to fear of having a panic attack