Panic Disorders
A panic attack is characterized by a feeling of intense terror and may also include symptoms such as racing heart, difficulty breathing, sweating, dizziness, and blurred vision.
Panic Attack and Panic Disorder Treatment & Counseling
Panic Disorder is a result of having recurrent and unexpected panic attacks. These attacks are debilitating and usually unrelated to a specific situation. Not knowing when one will happen often results in worry and feeling more anxious about having another panic attack.
For some, the fear of having another panic attack may prevent them from going out in public or socializing. The fear and memory of it can leave lasting negative effects on self-confidence and disrupt day-to-day activities.
It is not uncommon for someone to experience a panic attack once or twice in their lifetime. If you experience frequent panic attacks, however, you may have panic disorder.
Schedule an Appointment for Panic Attack Treatment at our St. Louis Park Location
Panic Disorder can be difficult to recognize because fear, worry, and behavioral changes can come on gradually. Seeking professional advice is an important first step in understanding your symptoms and getting help.
The specialists at West End Consultation Group near Edina take a caring and comprehensive approach to diagnosing and treating panic syndrome in adults. We start with a private consultation to learn more about you and your lifestyle. From there, we can start working on a panic treatment plan individualized to your situation.    
Schedule an appointment at our St. Louis Park clinic for panic attack help. 
What Are the Symptoms of a Panic Attack?
A panic attack feels like a rush of intense fear or discomfort that peaks in a matter of minutes but may last for an extended period. You might feel exhausted after a panic attack, or the attacks may wake you from sleep.
The symptoms can vary from person to person, but may include:
Increased heart rate or difficulty breathing
Chest pain, nausea, abdominal distress – feels like a heart attack
Trembling, shaking or sweating
Feel as if you are choking
Temperature change – either too hot or too cold
Dizziness or lightheaded
Fear of "going crazy" or dying
Feel detached from yourself (depersonalization) or from reality (derealization)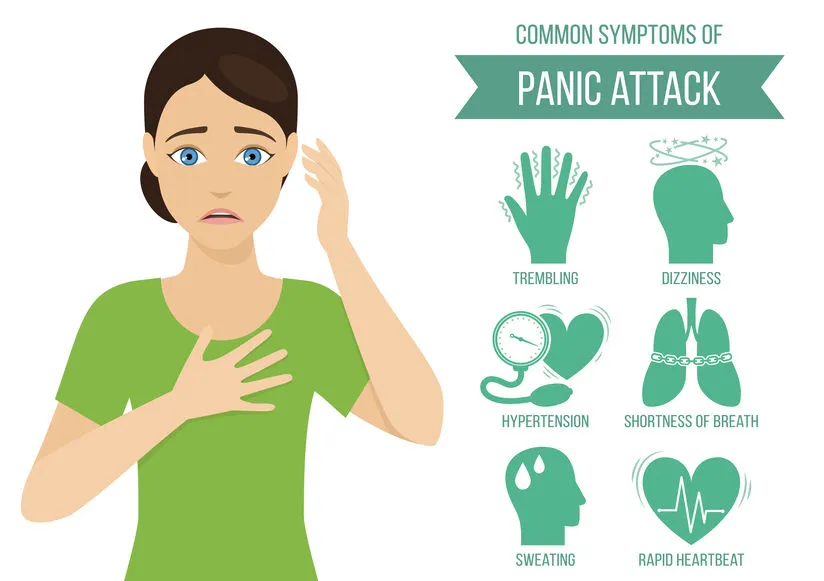 What Are Common Causes or Triggers for Panic Attacks?
Causes or triggers can vary from person to person. There may be a family history or a genetic predisposition to having anxiety and panic. Major life stress, serious illness, traumatic events, and significant life changes can trigger anxiety and panic. Smoking and excessive caffeine intake can also trigger panic attacks. It is important to discuss symptoms with a Psychiatric Specialist for an accurate diagnosis and to receive the appropriate treatment.
What are the symptoms of Panic Disorder?
Recurring and unexpected panic attacks
A month or more of fear and worry about having another panic attack
Worrying about the implications of a panic attack, such as thinking it may be related to an undiagnosed medical problem
Changes in behavior due to fear of having a panic attack